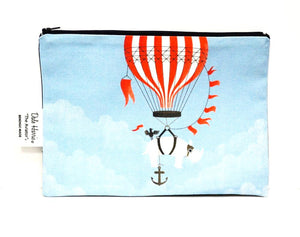 Makes a great pouch for everyday
or clutch for day wear, make up bag,
travel pouch or anything you want
to store or carry.
Hand made in Bendigo.
Approx. 25cm x 18cm.
Fully lined.
Black cotton back.
Bob hub artist: Dale Harris
Dale is a local Graphic Designer who
loves to create illustrations through
which one can escape to a vibrant
and fantastical land. His work brings
life to a fantastic menagerie brimming
with retro naivety.
*note that we work with natural fibres 
and fabrics, there are always slight 
imperfections especially in linens and 
canvas and each dye lot is different. 
This makes everything very unique and 
these naturally occurring imperfections 
only add to the unique product you 
are buying from us. Handmade, 
beautifully made.