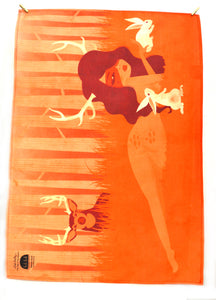 Very practical and super cute!
Hand made in Bendigo. Cotton/linen Approx. 68cm x 50cm.
Bob hub artist: Leah Hartley
In 2011 Leah began The Quircus, a vibrant and fantastical land through which Leah escapes to explore her love of illustration. Leah's work inhabits a playful world inspired by animals, fairytales and folklore. Influenced by the graphic style, clean lines and limited colour palettes employed in folk art, she finds beauty in simplicity and employs a minimalist approach to her works using bold shapes intertwined with fine detailing.
*note that we work with natural fibres and fabrics, there are always slight imperfections especially in linens and canvas and each dye lot is different. This makes everything very unique and these naturally occurring imperfections only add to the unique product you are buying from us. Handmade, beautifully made.
*bob hub is all designed and made in Bendigo to keep jobs in our local community. We want creative people to have opportunities for jobs and to work doing what they are passionate about. Shop with Soul at bob boutique and support your independent shops and your community.
All hand made in Bendigo using the gorgeous images of local artists.
We curate this range which is an ever changing art gallery of beautiful
wearable art and homewares. Limited Edition with changing artists
and designs. Supporting local artists has always been a driving force
behind bob boutique. www.bob.net.au/bobhub