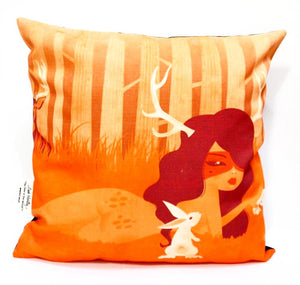 Our gorgeous bob hub artists designs
made into beautiful cushion covers.
Cushions are Approx. 50x50cm
Sold as cover only. Inserts are sold separately.
Black cotton back and invisible zip.
Bob hub artist: Leah Hartley
In 2011 Leah began The Quircus,
a vibrant and fantastical land through
which Leah escapes to explore her
love of illustration. Leah's work
inhabits a playful world inspired
by animals, fairytales and folklore.
Influenced by the graphic style,
clean lines and limited colour
palettes employed in folk art, she
finds beauty in simplicity and employs
a minimalist approach to her works
using bold shapes intertwined with
fine detailing.
*note this is a velvet fabric. We photograph to best get colour and textures shown as best we can. You are buying from us to get a unique, handmade, beautifully made product.