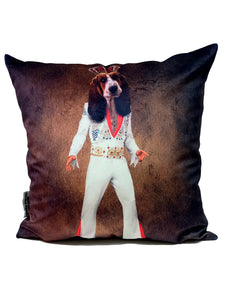 You will laugh every time you see your cushion, so funny.

Plush velvet fabric.
Cushions are Approx. 50x50cm
Sold as cover only. Inserts are sold separately.
Invisible zip, black back.
Swing tag, side tag. 
*note that we work with natural fibres 
and fabrics, there are always slight 
imperfections especially in linens and 
canvas and each dye lot is different. 
This makes everything very unique and 
these naturally occurring imperfections 
only add to the unique product you 
are buying from us. Handmade, 
beautifully made.