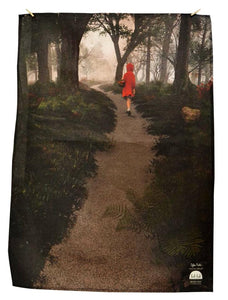 Very practical and super cute!
Hand made in Bendigo.
Cotton/linen Approx. 68cm x 50cm.
Bob hub artist: Dylan Fowler
Dylan is a graphic designer & animator
from Bendigo. His work varies from the
sugary sweet to the seductively spooky.
With works in pastel & primary colour
scenes with enchanting characters,
to detailed picture series with the
composition and hazy depth of old
German etchings. Dylans work is sublime.
*note that we work with natural fibres 
and fabrics, there are always slight 
imperfections especially in linens and 
canvas and each dye lot is different. 
This makes everything very unique and 
these naturally occurring imperfections 
only add to the unique product you 
are buying from us. Handmade, 
beautifully made.